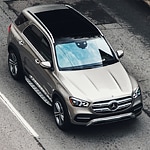 The all-new 2022 Mercedes-Benz GLE feature a number of cutting-edge technologies that make it one of the most advanced SUVs on the market. The first is a new infotainment system that features a 12.3-inch touchscreen display. This is the largest screen ever offered on a Mercedes-Benz SUV, and it is fully customizable, so drivers can access the information and features they need with just a few taps.
For those who enjoy listening to music, the Mercedes-Benz GLE offers a state-of-the-art Burmester sound system with 16 speakers. Bluetooth connectivity is significantly improved, making it easier to stay connected on the go. The improved steering wheel makes it easier to control the vehicle. Finally, the Mercedes-Benz GLE also provides a new air suspension system that automatically adjusts the ride height based on driving conditions. This enhances a smoother ride, no matter what the road surface is like.
With its wealth of innovative features, the Mercedes-Benz GLE at Courtesy Automotive of Chico in Chico, CA is sure to appeal to luxury SUV buyers who demand the very latest in automotive technology.