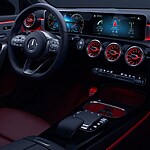 The 2022 Mercedes-Benz A-Class has an impressive array of safety features. One of the most impressive features is the Mercedes-Benz Pre-Safe system, which can automatically adjust seatbelts and close windows in the event of an impending collision. The vehicle features eight airbags as standard equipment. This includes side curtain airbags that deploy in the event of a rollover.
In addition, the Mercedes-Benz A-Class is equipped with Mercedes-Benz's latest generation of attention assist. This system uses a combination of sensors to monitor driver behavior and intervene if it detects fatigue or inattention signs. The car's body is made from high-strength steel, which helps absorb impact energy in a collision. The front and rear bumper systems minimize vehicle damage in low-speed impacts.
The Mercedes-Benz A-Class is also available with optional features such as active braking and blind spot assist. Together, these features make the Mercedes-Benz A-Class one of the safest vehicles in Chico, CA. Contact our team at Courtesy Automotive of Chico today if you want to be one of the first people to get behind the wheel.